Table of Contents:
What Volatility Affects
High Variance Slots
Medium Variance Slots 
Low Variance Slots
Choose Comfortable Volatility
Conclusion
What Volatility Affects
This parameter indicates the variance of a slot, in other words, its "riskiness". Slots with low volatility can offer a smoother and more predictable experience, while high volatility slots will increase your risk but have a high chance of giving you big wins.
Slots players only need to know that volatility is not stated as a percentage, it can be high, medium or low. You can base your betting strategies on volatility according to your personal traits and patience.
Let's look at an example to make things more straightforward. Say, when you bet on a roulette number, you deal with high volatility. As a result, you can wait a long time for your number to come up, but in the end, it will bring you a big win.
But if you only bet on black, you will have frequent wins, but the odds will be small. This is an example of low volatility, while medium volatility is somewhere in the middle.
Unfortunately, game developers rarely specify volatility levels in their games. So, you have to do a long search on the provider's website for that characteristic or read other players' reviews of the selected slot. Another way to determine volatility is to play the slot's demo version for a while, and then you will be ready to make your own conclusions.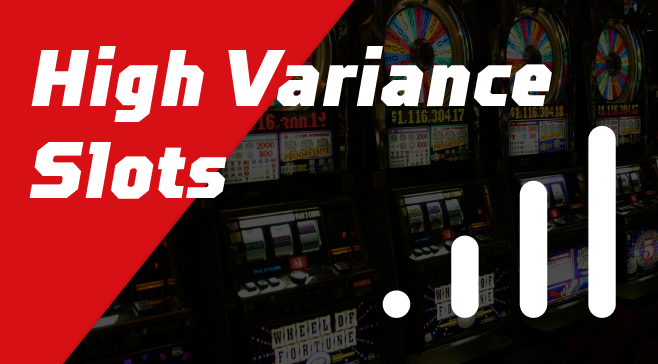 High Variance Slots
You might ask, what's the point of playing the riskiest slots? Sure, you could spend an entire day emptying your wallet, putting more and more money into the machine, and end up walking away with nothing.
But real pro gamblers just love such slots for their high risk, which comes with the possibility of big wins. A lot of these high-risk slots have the potential to pay out more than a million, and these are progressive jackpot slots, as you might have already guessed. Besides, there's always a chance that some player before you has spent a lot of money on this particular high variance slot game, and you'll spend very little before you get your big winnings.
But you needn't think that every high variance slot is a jackpot machine. Plenty of slot machines out there are exciting and profitable thanks to their special features.
For example, there are things like everyone's favourite "Free Spins" bonus feature, additional rounds, Wilds, Scatters, Jokers and so on. A great example of such a slot machine would be Dead or Alive, which has no jackpot, but it has an excellent RTP and many exciting extra gameplay features.
Medium Variance Slots 
Among all casino games, medium volatility slots are the most balanced ones. In addition to small and medium winnings, these games can also reward you with huge prizes while being quite gentle with your bankroll. You won't be able to spend an entire evening without winning something, although you should be prepared for long losing streaks.
You can also find games developed by well-known providers like Microgaming or Netent that have jackpots that promise the coveted big win.

Low Variance Slots
Now you might think that low volatility slots are tedious and unprofitable, but nothing could be farther from the truth. What's particularly good about these games is that you won't get bored with them. Yes, the winnings will not be as huge, but there will be plenty of them, and this exciting action will keep going on and on.
Another positive side of these games is the ability to play with larger bets compared to other types of slots. Accordingly, you can win without too much stress because these slots for real money can also give you very big wins. These slots are an excellent choice for players who just want to have a good time at an online casino without spending a whole bunch of money.
Choose Comfortable Volatility
With some time and experience in slots, you will find the volatility you are most comfortable with. Perhaps you will switch slots according to your mood. Sometimes you just want to relax and watch the reels spin for a long time, waiting for the winning combination, and sometimes you want to hear the winning sound of your favourite slot every minute.
If you enjoy taking risks, then high volatility slot machines would suit you perfectly. These slots are designed for people who don't compromise and who are ready to go "all or nothing". Or, if you're a jackpot hunter, you might as well choose slots like these with the potential to bring you life-changing winnings.
Medium variance slots will suit almost all players, as they have a great balance of winnings and expectations. They are an excellent choice for players who just want to tickle their nerves a bit and get their dose of exciting gameplay and bonus rounds.
Beginners and players with a modest bankroll should choose mostly low variance slot games, as they are the most tolerant to the player and do not require much from them. You won't curse the slot machine because it hasn't given you a single penny for an hour, and your nerves won't suffer from greed. This is a pleasant and relaxing experience that probably won't enrich you, but it won't hurt your finances or your mood, either.
Conclusion
The choice of slot volatility should be based on your current preferences, as you have already learned from this article. But don't forget that the size of your bankroll is also important. If your gambling budget isn't that big, you'll probably be looking for lower volatility, but if you are looking for an opportunity to spend a lot of money and are willing to take your chances, then slots with high volatility are waiting for you!