Table of Contents:
Online Slots Essentials
RNG as the Heart of Online Slots
RTP as a Factor that Determines the Chance of Winning
Volatility Level
Myths about Online Video Slots
Closing Thoughts
Online Slots Essentials
Transferred to the digital world of ones and zeros, a slot game is software code neatly written by programmers and thoroughly tested by specialists to run perfectly without a hitch. In fact, it is a computer application, which uses the logic of reeled slot machines that previously could only be played at B&M venues. 
Thanks to advances in computer technology and the internet, many titles including slots have been moved to the virtual space to become available to anyone willing to risk their money. As technology continues to advance, today's slots not only look more appealing visually, but also offer many exciting slots bonuses and extras like Wild symbol or free spins to increase the winning potential. 
RNG as the Heart of Online Slots
Slots are pure games of chance thanks to the RNG determining which symbol and in what position on the game grid should land when the reels stop spinning. It is similar to tossing dice when you don't know exactly which pair of digits will land as a result.
So, the RNG generates a long number with each digit representing different things from the moment the reels stop spinning to a specific symbol and its position on the playing field. Since the numbers generated by the RNG technology are truly random, neither the player nor the casino knows what the next symbol combination will be. Moreover, it destroys the myth that after a long losing streak, you are guaranteed a payout.
To make sure the slots really work fairly, there are independent auditing companies regularly checking the RNG algorithms to make sure they work correctly and are not tampered with.
RTP as a Factor that Determines the Chance of Winning
Similar to many table casino games, slots offer a guaranteed profit for the casino because they have a house advantage. For example, a 5.26% house edge in Roulette means that the casino is guaranteed to make $5.26 for every $100 you wager.
To determine winning odds in slots, the return to player percentage parameter (RTP) is used, and it shows which part of the money spent on betting over a lengthy game session will return to the player as winnings. For instance, by choosing a title with an RTP of 97%, you will get back at least $97 for every hundred wagered over a lengthy playing session. 
Keep in mind that the RTP doesn't work if you only plan to make a few spins. To understand this further, you need a knowledge of probability theory and mathematical statistics. For example, although you have a 50% chance of seeing heads or tails on a coin flip, by flipping it just a few times, you might only see heads for example. However, the longer your coin flip experiment lasts, the closer the numbers of heads and tails will be to each other, and that's how RTP works in slots.
Volatility Level
In order to characterise the combination frequency and the payout value, the volatility setting has been introduced. Here are some important thoughts on slot volatility levels:
The higher the level of volatility, the less often winning combinations land on the slot reels.
High-volatility titles are capable of really big payouts.
Low-volatility games are mainly aimed at newbies and casuals because they give a sense of frequent winnings, even though the payouts are mediocre to say the best.
Although high-volatility titles are riskier, any payout can justify all the costs of lost bets.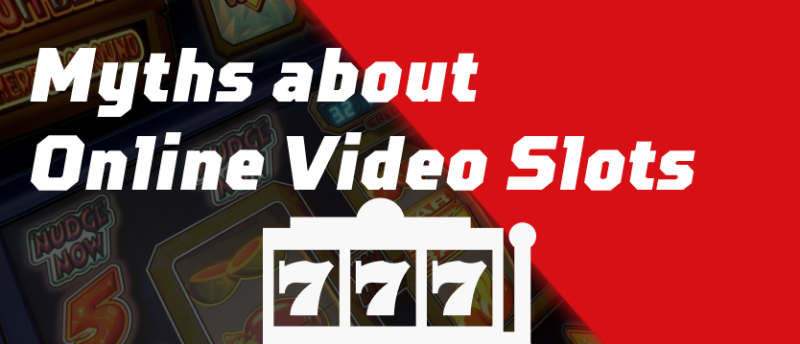 Myths about Online Video Slots
In the more than 20 years since the first online slot machine was introduced, a lot of myths have been around to mislead newcomers and even seasoned punters, and we're here to dispel them.
Online slots were designed to steal your money. In fact, when playing certified titles for real money, you can be sure of the fairness of the gaming experience, as casino sites receive guaranteed profits due to the RTP value and the slot manufacturer takes care of its reputation.
Playing online slots at the maximum bet gives you higher winning chances. This is not true, as no matter which way you start the game round — whether it's the Spin or Max Bet button — the RNG function works the same way, no exceptions.
Cold and hot machines. This myth is also shattered by an understanding of how the RNG works.
Only a high roller can win the progressive jackpot. This is partly true because in some slots, you only qualify for the jackpot if you make the highest bet. 
Besides, there are plenty of other myths, which you'll demolish on your own as soon as you immerse in the gameplay.
Closing Thoughts
We hope you have now got more into the slots business and how those machines work. Since they are RNG-based online casino titles, you won't be able to influence the game directly, thereby increasing your winning odds. However, by sticking to prudent bankroll management, you'll minimise your losses and prolong your enjoyment of the game.